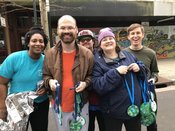 L'Arche members at the Mobile Marathon
L'Arche Mobile was established in 1974 when Janice Risse invited Debra to live with her. Debra was the "Founding Core Member of L'Arche Mobile. In September of 1974 Janice Risse Guillory invited Debra to live with her in house 161.
Supported by a local Board of Directors, the community has grown to include 25 core members and 55 Team Members/Assistants (direct care, house coordinators, office, nurses and leadership team) who share life together in six homes and an activity center. The activity center provides work opportunities for 22 people with developmental disabilities as well as Team Members/Assistants.