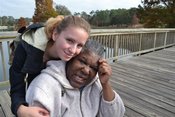 Pauline and Lucy at the Duck Park
L'Arche Mobile is fortunate to maintain friendships in the local community with individuals, families, and businesses who welcome and share in our mission. Many of our friends have established relationships with members of the community. We welcome involvement in either a short or long-term basis.
If you are interested in getting to know us better, please contact us via email, phone, or social media. Our friends tell us that the rewards they receive are far greater than what they give.