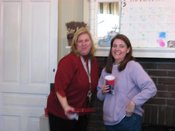 Telecia our R.N. and Angela our bookkeeper at team member Christmas lunch.
A Team Member in L'Arche works with other team members as well as the Practical and Home Life Coordinators as a "team". The Practical and Home Life Coordinators are responsible for the medical needs of the core members and the running of the home or activity center. General supervision of the house or activity center is provided by these Coordinators. Each house and the activity center have a reference person from the Leadership Team.
L'Arche Mobile strives to create a family atmosphere for the core and team members/assistants.
The Core Members (people with an intellectual disability) need company; they want to build genuine lasting relationships with team members/assistants, family members, friends of the community and volunteers. L'Arche is not just a professional center where educators and social workers help people with an intellectual disability become more autonomous.
We try to break down that separation between the "helper" and the"helped".
Many Team Members/assistants consider L'Arche Mobile their home and their family. L'Arche Mobile provides home for the core and team members/assistants 7days a week, twenty four hours a day. On weekdays, Team Members/assistants are in the homes from the rising hour for the core members through breakfast and departures to their work or to the activity center. The Core Members return from work or the activity center between 3:30 and 4:00 p.m. Team Members/assistants are with the core members from then until bedtime, at about 9:00 p.m. On weekends, Team Members/assistants are with the Core Members throughout the day usually in 8 hour shifts. Throughout the week and weekend, we have Overnight Team Members who stay in the homes in order to aid during the night.
Much of the time with the Core Members is spent in simple household tasks or in shared recreational activities. This living and working together is for Team Members/assistants, a real change of cultures, because the culture of the people with an intellectual disability is centered around relationships, presence, and play; not around more intellectual or "productive" pursuits.
LIFESTYLE:
Our lifestyle is simple, due to choice, as well as necessity. Core and Team Members/assistants seek to share their lives as brothers and sisters. The Core Members are offered a community for life, but are encouraged toward autonomy according to their capacity.
We are looking for dedicated persons who want to live and share in our growing community. No professional experience or academic training in intellectual disabilities is required, although applicants need to be of reasonably sturdy emotional disposition and good physical health. They should have a desire and capacity to live with, learn from, and relate to people with an intellectual disability on a personal level, as well as the ability to work closely as a "team" with other Team Members/assistants and relate well with them.
Duties of Team Members/assistant include sharing with everyone the manual labor of keeping a home together; cooking, cleaning, yard work, repairs, etc. Sometimes, sharing involves teaching these skills to others. Team Members/assistants help the Core Members with self-care and community living skills, as well. Developing leisure time pursuits together, celebrations and music are important. Shared prayer is a regular part of our life together, although no one is required to participate. Team Members in Residence have private bedrooms, but otherwise share all the living conditions of the core members, the same common rooms, bathrooms, the same table, etc...
L'Arche depends a great deal on the gratuity of others and so we try to be content in living simply. Our homes are attractive and pleasant. Meals are nutritious; some of the meals are vegetarian. Transportation to events shared with the Core members is provided. Privately owned cars are useful, or bicycles. Public transportation is helpful, but not entirely adequate. Our houses are in the older part of our city, near the bus line and within walking distance of drug and grocery stores.
BENEFITS:
Two days away per week (48 hours), Workmen's Compensation, unemployment, withholding, and social security are covered. Medical, Dental, and Life Insurance will begin after the 90 day trial period and a favorable 90 day review is completed.

Personal and Sick Days begin to accrue after the 90 day trial period and a favorable 90 day review is completed. The vacation time increases according to the number of years the Team Member/assistant is in the community.
Team Members/Assistants attend L'Arche events, such as retreats, meetings and in-services on L'Arche. Room and board are provided by L'Arche Mobile. A stipend for expense money is provided to full time Team Members/Assistants in Residence.

OUR PROCEDURE FOR ACCEPTANCE IS:
-Applications are processed
-References collected
-A visit is requested
-A person is accepted for a three (3) month trial period.
-After the three (3) month trial period is completed, we ask for a one year commitment. Short terms of less than a year are also available.
For more information please contact:
L'Arche Mobile
151-A South Ann Street
Mobile, AL 36604
Tel: (251) 438-2094
Email: larchmob@hotmail.com