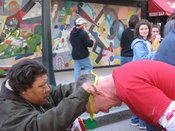 Diane giving a handmade medal to a runner.
The L'Arche Mobile Foundation organizes fundraising events that benefits L'Arche Mobile. The L'Arche Mobile Foundation also has a Planned Giving program.
The events are as follows:
Servis 1st First light Marathon, half marathon, relay and fun run www.firstlightmarthon.org
Bring Your Heart to L'Arche Lenten Program
Easter Corporate Classic Golf Tournament
The Annual L'Arche Mobile Pre-Season Football Preview
National Association of Insurance and Financial Advisors Annual Golf Tournament.

NAFIA - Mobile Sporting Clay Fun Shoot for Benifit of L'Arche Mobile March 7, 2013
http://www.rmhcmobile.org/Websites/rmhcmobile/images/Sporting_Clay_Promotional.pdf