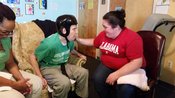 Marcell and Kelly in the AC
The Thomas B. Barnett Activity Center (AC) focuses on the needs and abilities of each person. Support is offered to each core member with a focus on personal creativity, job support, and leisure activities. A day at the AC can include projects for our many events, outings, games, community prayer, and hosting volunteers.
The AC is coordinated by Valerie (Val) and led by a team made up of full time team members, a Jesuit Volunteer, and a international volunteer. On a daily basis, seventeen of our Core Members work at the AC; our other three Core Members attend the AC part time.
The AC also houses the office for our nursing team. Many meetings, classes, celebrations, worship, and gatherings are held there throughout the year.