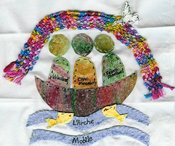 L'Arche Logo made from handmade paper, weaving, and original drawings used on the USA Zone Banner for the International General Assembly in Kolkata, India October 2008
We are people, with and without intellectual disabilities, sharing life in communities belonging to an International Federation. Mutual relationships and trust in God are at the heart of our journey together. We celebrate the unique value of every person and recognize our need of one another.
L'Arche Mobile is one of the many L'Arche Communities Worldwide.